In B2Chat, you can choose which role to assign to each of the users in your account. In this way, some members of your team have editing preferences that are very useful when managing the platform.
Edit a user's information
Sometimes, administrators forget the role they have assigned to a user or want to modify their information, to solve this problem you must review each user and edit their profile.

Below, we will explain how to do it, you just have to follow these simple steps:
⚠️Note: In order to carry out the following steps and access the users' module, you must have an administrator account.
Step 1: Enter B2Chat with your username and password 🔐.
Step 2: Click on the users' module

located in the menu on the left-hand side of the screen.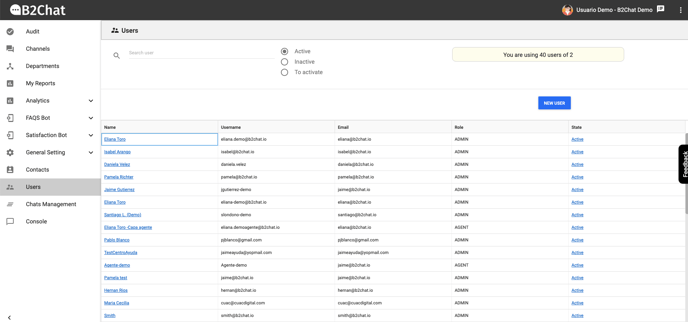 Step 3: Go to the search box and type ✍️ the name of the user you wish to edit.

Step 4: Click on their name once it appears on the drop-down list.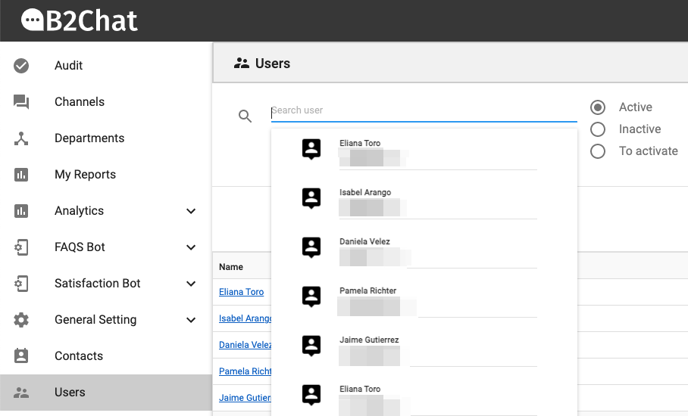 Step 5: You will see a window with your user's profile 👇, look for the information you want to modify, and change it, you will be able to edit: the profile photo, your email, their role, and their phone number.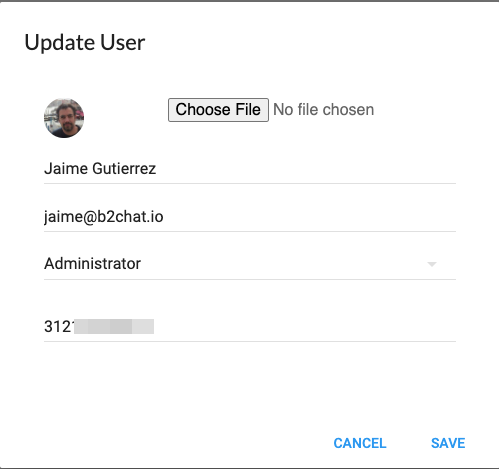 Step 6: Once you've finished making changes, click on the blue button: "Save" 💾 .
This is how users are edited in your B2Chat account, we hope this information was useful for your company.

Thank you for choosing us. 🤗